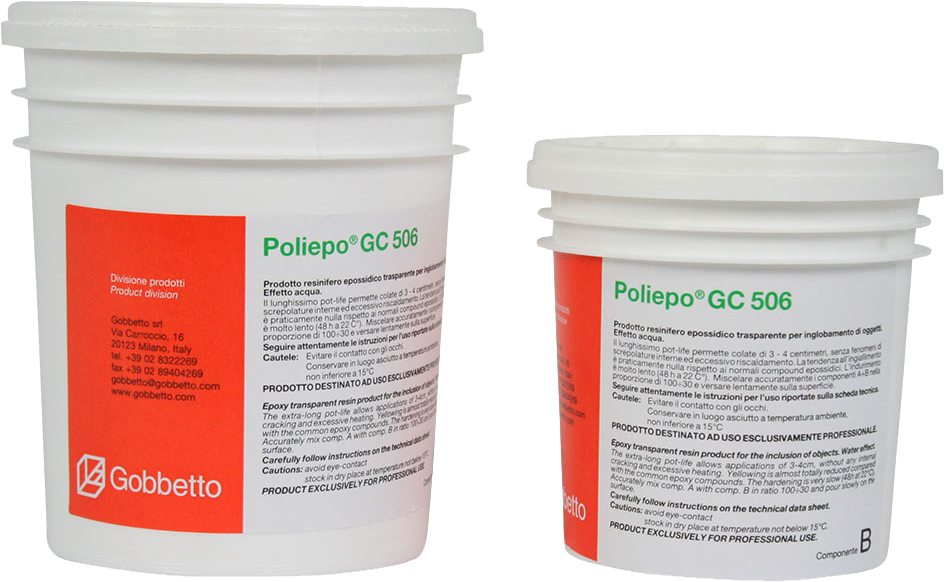 Poliepo® GC 506 |
Water Effect
Thick transparent epoxy resin
Description
Poliepo GC 505® Extra is a two-component glaze-effect product, for resin flooring and surfaces. It is used for high thickness lacquering and for furnishing accessories, objects, lamps, panels or sculptures. Non-toxic and solvent-free, excellent transparency, resistance to wear and UV rays with a protective and anti-yellowing effect. Thanks to its low exothermicity, Poliepo® GC 506 is suitable for high thickness casting in a single shot.
Use
Self-leveling product. Mix components A and B: the ratio of self-leveling product. Carefully mix part A with part B in the proportion 100-30 by weight (eg 1 kg of A + 0.3 kg of B), using a mixing drill at medium-low speed or a rectangular section stick.
It is suggested to transfer to another can if necessary to obtain a perfect homogenization. Not suitable for thicknesses under 1 cm.
Quantity
The thickness indicated for each casting depends on the size of the object. Quantity varies according to thickness; For medium-small objects it is possible to reach thicknesses of 10 cm in a single casting.
For larger objects, such as tables, it is preferable to cast 3-4 cm at a time. Average consumption is 1.2 kg/m2 per 1 mm of thickness.
Available in packs (kits A + B) of 1.3 kg and 13 kg.