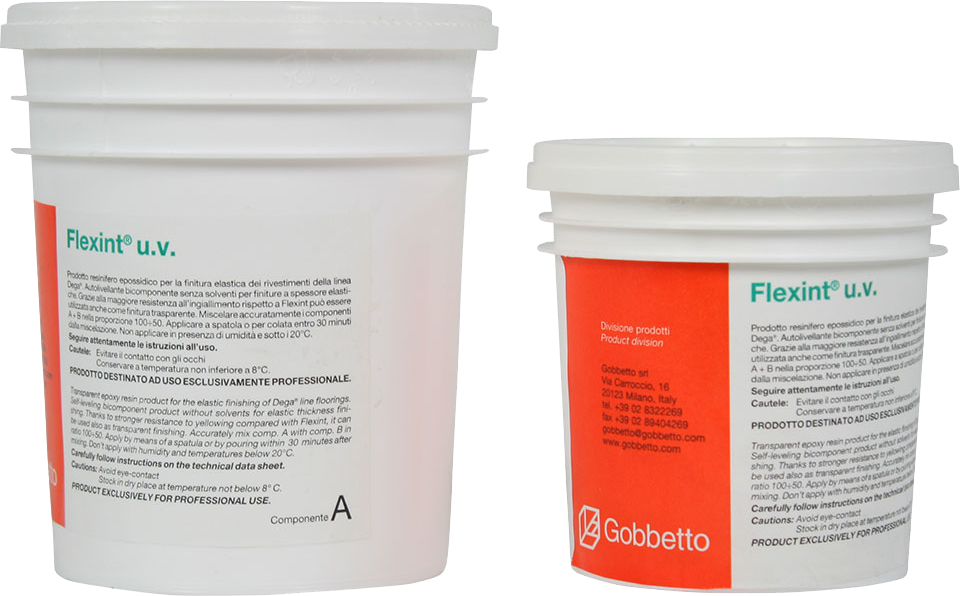 Flexint® u.v.
Elastic and soft resin
Description
Transparent or coloured elastic finish for floors and giftware, Flexint® u.v. is a transparent epoxy compound, specially designed to produce an elastic layer, easy to apply and long pot-life. A rubberized effect film, easy to apply and long pot-life: ideal to create soft coatings and resin fabrics. Solvent-free without reactive thinners, Flexint® U.V. is transparent and colorable with universal or acrylic pigments, and offers high color fastness.
Use
Self-leveling product. Using a medium speed drill mixer, mix part A with part B in a proportion 100-50 ( e.g. A 1 kg + B 0.5 kg ) allowing perfect amalgamation. Within 30 minutes proceed to apply with a pouring spatula. In case of micro-bubbles, a lacquering thinner can be sprayed on the areas to be treated. Do not apply on wet surfaces or at temperature below 15°C. If necessary finish with Floor Plus protective wax.
Quantity
Recommended quantity of 1.5 kg/mq for 1 mm thickness.
Available in (A + B kit) 3kg, 6kg, 15kg size packs.