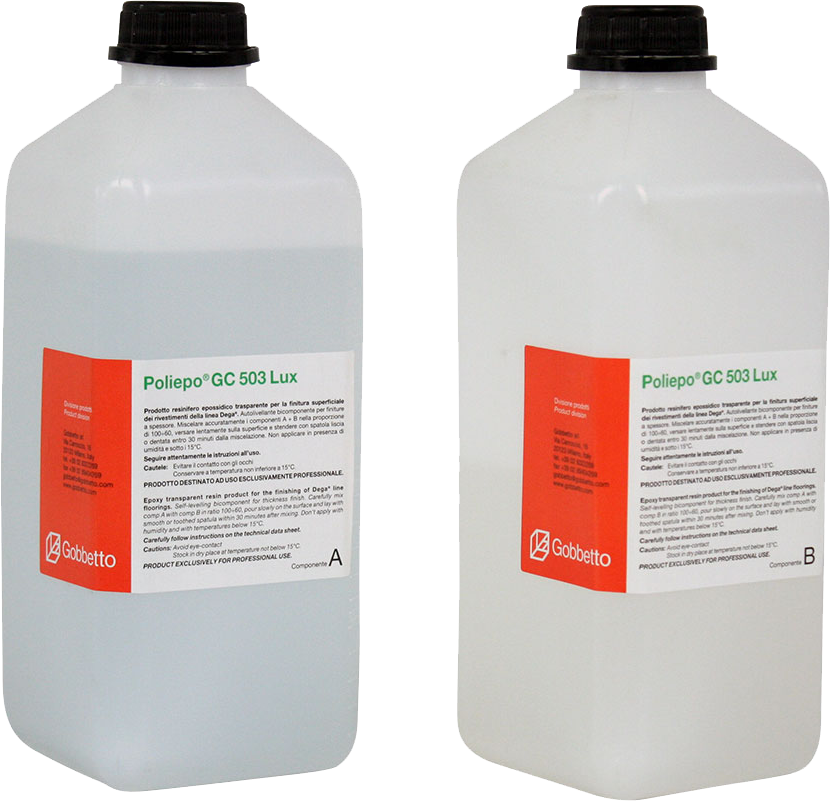 Poliepo® GC 503 Lux
Super-reflecting transparent epoxy resin
Description
Poliepo® GC 503 Lux is a two-component glass-effect product, for resin flooring and surfaces. Applicable also in case of temperatures lower than those allowed for use of the normal Poliepo® line. An epoxy resin compound, non-toxic and solvent-free, offers excellent transparency and resistance to wear and UV rays.
Area of application: residential and contractor.
Use
Self-leveling product. Mix components A and B: the mixing ratio by weight and 1 part part A and 0.6 part component B ( e. g.1 kg component A e 0.6 kg component B). Pour slowly over the surface then spread with a smooth or toothed spatula. Avoid application on wet days and do not apply at temperatures below 12° C.
Quantity
For thick lacquering, using smooth or toothed spatula, a quantity of about 1.2 kg/sqm is recommended. Apply in backlighting to check uniformity and good levelling.
Available (kit A + B) in 1.6 kg, 3.2 kg and 16 kg size packs.