Today, 12th of March, at the space in front of the library Agorà in Arese, at 9 o'clock, takes place IONONCIPASSOSOPRA an important artistic and cultural school project; here you can see the winning works: Contro il patriarcato and Aiutami.
This school project has a big cultural and social echo because it wants to draw attention to the violence against women through a creative and visual message.
Supported and followed by the artist Carmela di Tomaso and the teacher Nadia Brivio, the students of class 4C, figurative program, of the Art School L. Fontana in Arese and the students of 3B, multimedia program, coordinated by the teacher Domenico Bulfaro, gave birth to artworks of great emotional intensity.
Gobbetto Epoxy Resins, always sensitive to social issues, support the project as the technical sponsor contributing to the realization of the works with our resins.
Products used for the realization:
WINNING WORKS
CONTRO IL PATRIARCATO LA RINASCITA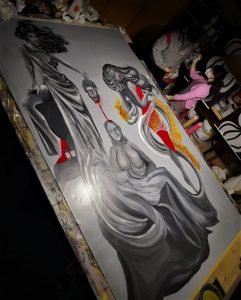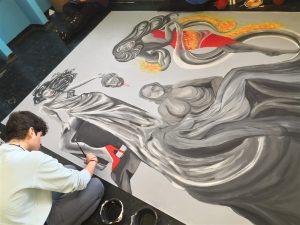 The artwork of 3m x 2m, created by Marco Bonotto, Elettra Gobbi e Alice Ronchi, immediately impressed the spectators for its strong emotional impact.
The interpretation of the work starts with Medusa, the woman on the left, who holds in her hand Golia's head; she symbolically represents the revenge of all women against their usurpers.
Her elegant dress is gradually transformed into a veil that accompanies the eyes of the spectator towards the second figure, the Mercy, the symbol of desperation and maternal protection. As before, the veil is the element of continuity that allows us to continue towards the third woman, the only one who dresses the red colour. Burning in flames, like the phoenix, this woman rises again and starts to live after a violent tragedy.
"For this artwork, we took inspiration from three different artistic currents- say the artists -Medusa is based on classical art, translated through a fashion iconography, from Versace style. The Mercy refers to Renaissance art, instead, the last figure takes back from the Art Nouveau and is inspired by Alphonse Mucha.
AIUTAMI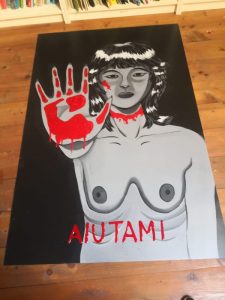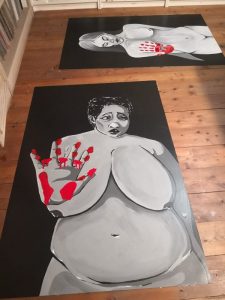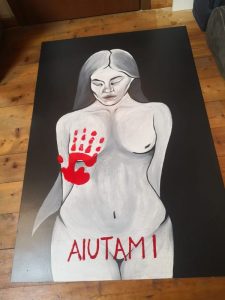 In this artwork created by Emma Zuccoli, Letizia Cunzolo e Irene Morandi, we can see three women of different nationalities and physical appearance at the moment in which they try to ask for help in vain. The key element of the work is the red imprint, the symbol of their existence and violence suffered that won't be enough to help the next victim of violence, unfortunately.