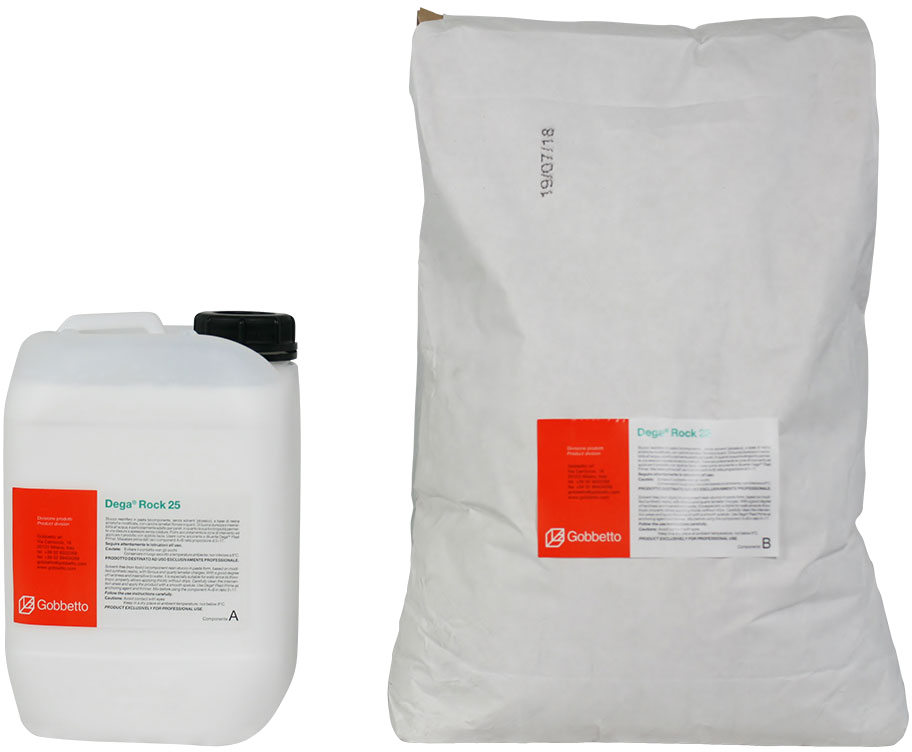 Dega Rock Microcement
Plaster for stone-effect spatulate
Description
A paste, two-component resin plaster, Dega Rock gives a materic aspect to floor and finish surfaces, cement or stone effect depending on the choice of grain. Solvent-free non-toxic, based on modified copolymer resins. Does not drip, therefore suitable for vertical applications. Excellent resistance to water and heavy pedestrian traffic thanks to its hardness.
Two grain sizes available: fine-grain Dega Rock 25 for cement effect and intermediate-grain Dega Rock 50 for stone effect.
Area of application: high pedestrian traffic public areas, outdoor flooring for terraces, porches, swimming pools or wet areas, changing rooms, showers, etc.
Use
Carefully clean working areas. Apply Dega Primer for anchoring then procede to dry-sand; apply the product using a smooth spatula. In millimetric level apply 2 or 3 coats, mixing the two components in weight proportion: Dega Rock 25 5 parts component A + 17 parts component B (e.g. 5 kg component A and 17 kg component B). Dega Rock 50 4 parts component A + 20 parts component B (e.g. 4 kg component A and 20 kg component B).
Mixing procedure: while stirring, thinly pour component B into component A. To vary density of product Dega Primer can be added to the paste until the desired viscosity is obtained. Finally using a roller apply the protective transparent resin Dega Gamma Eco/TR (semi-glossy) or Dega Brek (matt). Plaster can be colored by adding universal pigments.
Quantity
Yield is closely linked to project and surface. For spatulates of the Dega Line floors average quantity is 3 kg/mq for 2-3 mm thickness.
Fine-grained Dega Rock 25 – available in 22 kg size pack.
Intermediate-grain Dega Rock 50 – available in 24 kg size pack.